Description

Count on ND25.5, the Most Energy-Efficient 2-In-1 unit that functions as a dehumidifier and air purifier! Beyond a dehumidifier, it also doubles as a convenient indoor laundry drying device, well suited to tackle unpredictable weather and humid climate. Featuring high performance of 25.5 litres/day extraction rate, made for spaces of up to 620 ft2 and 495 ft2 for dehumidification and air purification respectively, and emits up to 20 million/cm3 of negative ions to freshen your indoor air quality. Breathe and feel the difference today, everyday!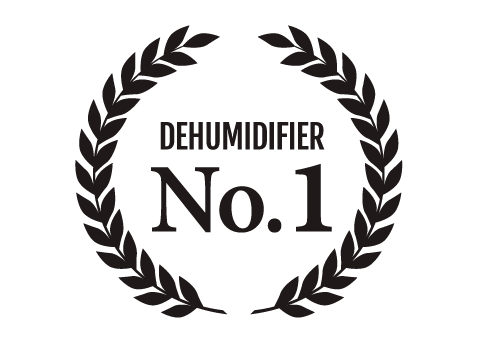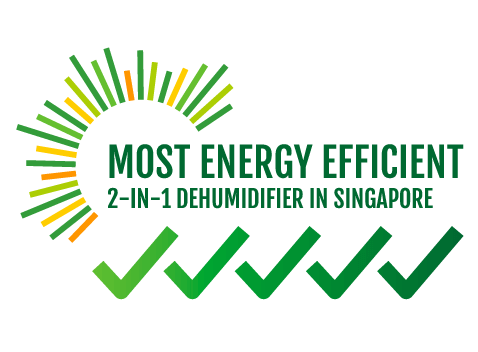 MOST ENERGY EFFICIENT
2-IN-1 DEHUMIDIFIER
SEMI-PERMANENT
BUILT-IN IONIZER

HUMIDITY
LEVELS
Maintain comfortable relative humidity levels and safeguard your interior finishing and valuables such as leather goods, camera equipment and musical instruments from humidity damage.

EXCESSIVE
MOISTURE
Removes excess moisture from the air for your desired relative humidity level at all times. A relief from allergy triggers, and prevention against mold and mildew growth.

EFFECTIVE INDOOR
LAUNDRY DRYING
Moisture from the damp garment will be drawn into the unit and condensed into water droplets. Warm air is simultaneously produced from the air outlet to speed up the drying process.
WITH H11 HEPA &
ACTIVATED CARBON FILTER
Available in 2 types of filter for user to choose and apply in accordance to their needs and preferences to keep airborne allergens, germs and unpleasant musty odour at bay.

REFRESHING
INDOOR AIR
The built-in semi-permanent ionizer produces millions of negative ions that eliminates airborne allergens and germs, all while cleaning and freshening your indoor air quality.
Common Indoor Air Quality Woes
01
MOLD GROWTH AT HIGH HUMIDITY
Singapore's average Relative Humidity (RH) level is approximately 80%, almost double the ideal RH level of 40% to 50%. When there is abundant rainfall, RH can peak at 100%. Under highly humid and wet conditions, destructive organisms such as mould, fungus and mildew thrive and may damage your interior finishing and valuables.
02
POOR INDOOR AIR QUALITY
On average, we spend 90% of our time indoors, and around 65% of it at home. Indoor air pollutants can be 2 to 5 times more or even up to 100 times worse than outdoor air! We should be concerned about the air quality as we take in about 26,000 breaths/day and that is equivalent to 800 oxygen tanks!
UNDERSTAND AIR & YOU!
Everyone should be concerned about the air around us since air pollutants can cause a variety of health problems and are especially harmful to young children, old folks and those with pre-existing respiratory conditions. The importance of air quality is obvious since we take in approximately 26,000 breaths, which is equivalent to about 800 oxygen tanks every day.
AIR QUALITY & YOUR OVERALL WELL-BEING!
Indoor air quality can be 2 to 5 times or occasionally 100 times more polluted than the air outside. This polluted air contains airborne allergens and germs that are way beyond our visible range of 40 to 70 micrometers and they are inevitably inhaled into our body without realizing. Though they are insignificant in sizes, but they can trigger adverse health conditions and affect our overall well-being.
Common Symptoms Experienced Due to Poor Air Quality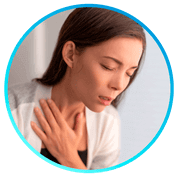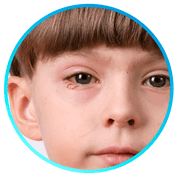 UNDERSTANDING HUMIDITY IN YOUR HOME
Excessive moisture in the air, especially at a relative humidity of 50% or higher, speeds up mold & mildew growth. Besides making it uncomfortable to breathe, high humidity can caused unexpected damages to your indoor environment.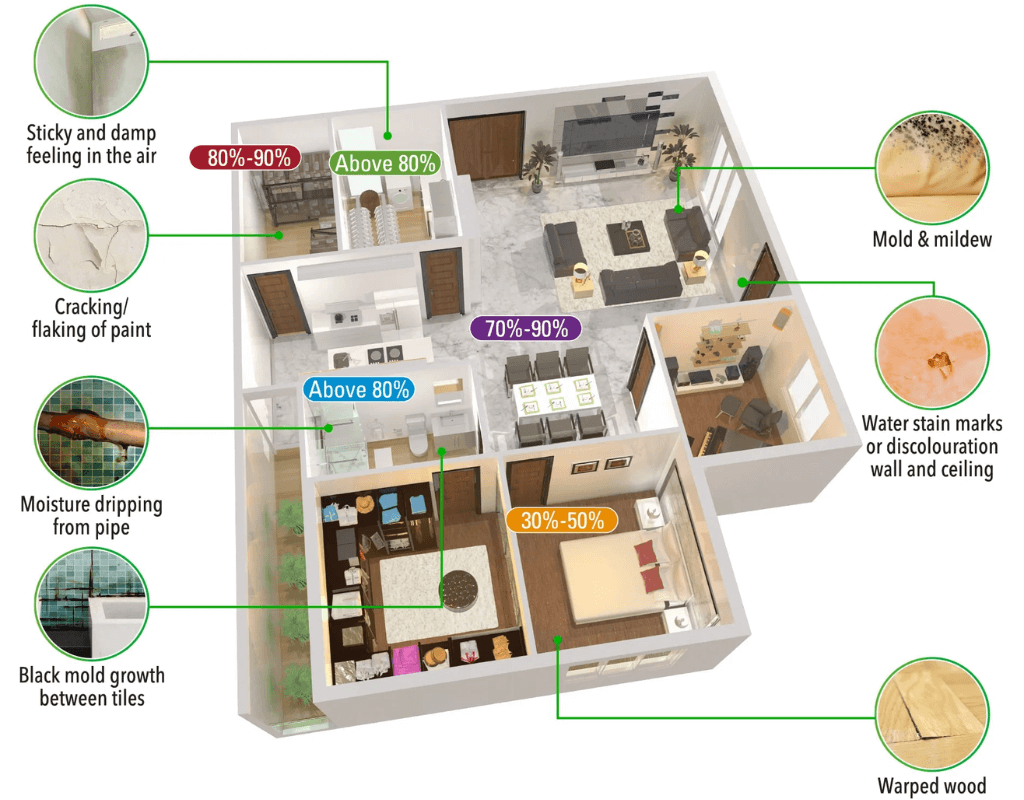 ESTIMATED HUMIDITY LEVELS AT DIFFERENT AREAS OF A HOUSE
Air-conditioned Bedroom
Living Room
Walk-in Wardrobe & Bathroom
Laundry Area
Basement/ Collectibles Storage Area
* Relative humidity is subjected to change based on Singapore weather conditions
In need of a device that purify the air + simultaneously ensures the air has the ideal relative humidity level?
AIR PURIFICATION
Improve Your Indoor Air Quality In 3 Steps
• By applying the H11 HEPA & Granular Activated Carbon Filter, the extraction rate is approximately 20 L/day.
• By applying the Enhanced Dual Mesh Activated Carbon Filter, the filter resistance will affect the air flow rate and extraction efficiency rate.
20 MILLIONS OF NEGATIVE IONS/CM3
For Cleaner Aand Fresher Indoor Air Quality
AIRBORNE ALLERGENS ELIMINATION
Negative ions such as Superoxide anion (O2–), Hydroperoxyl Radical (HOO–) and Hydroxide Radical (OH–), rid airborn allergens by attachingon to positively charged allergens, making them too heavy to remain our breathing zone.
UP TO
20 MILLIONS
NEGATIVE IONS PER CM3
AIRBORNE GERMS ELIMINATION
Being highly reactive, Hydroperoxyl Radical (HOO–) and Hydroxide Radical (OH–) attach themselves onto the surface of airborne virus, bacteria and fungi and extract the Hydrogen Atoms (H) from their protein coat and cell membrane. Ultimately, with the damaged protein coat and cell membrane, airborne germs are unable to survive and thoroughly eliminated.
Water vapour (H2O) is formed and dispersed back into the air as a result of the combination of extracted Hydrogen Atoms (H) and Hydroxide Radicals (OH–).
6 BENIFITS OF NEGATIVE IONS
01
Keep Airborne
Allergens And Germs
At Bay
02
Revel In
An Overall
Calming Effect
03
Clean And Fresh
IndoorAir Quality
All Year Round
04
Relieve
Stress And
Drowsiness
05
Neutralises Positive
Ions Generated By
Electronic Appliances
06
Boost Energy
And Improve
Alertness
DEHUMIDIFICATION
Achieve Ideal Indoor Humidity Level In 5 Steps
BENEFITS OF HAVING ND25.5
THE 2-IN-1 

DEHUMIDIFER

 + 

AIR PURIFIER


THAN STANDALONE DEVICES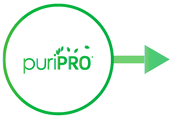 STEP 1
Air is purified through the H11 HEPA & Granular Activated Carbon Filter.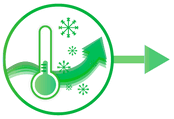 STEP 2
Draws in excess moisture from the surrounding air.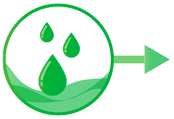 STEP 3
Moisture laden air is condensed into water droplets.
STEP 4
Water is collected in the water tank or drained out via the continuous drainage option.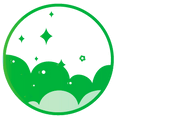 STEP 5
Achieve your desired humidity level and breathe comfortably.
ENERGY SAVINGS
Regular standalone dehumidifiers and air purifier can consume substantial amount of energy which translates to higher energy bills! But with ND25.5 it promotes efficiency and environmental sustainability by purifying and regulating humidity level simultaneously. 
SPACE SAVINGS
Do away with separate standalone air purifier and dehumidifier with ND25.5. Enjoy immensely space-saving as this 2-In-1 unit is housed in a sleek and compact body with a dimension of width 378 x depth 273 x height 580 mm, absolutely the perfect addition for any urban living space. 

Auto
Dehumidification Model

Semi-Permanent
Built-in Ionizer



Preferred
Humidity Settings


Auto-shut Off
With Full Tank Indicator

Continuous
Drainage Option

FEATURE HIGHLIGHT 1
AUTO DEHUMIFICATION MODE
Smart Optimization • Energy Conservation
Besides working hard, ND25.5 also work smart with its Auto Dehumidification Mode. Programmed to react and auto optimize operation in accordance with the surrounding humidity level, to provide efficient performance and energy conservation.


FEATURE HIGHLIGHT 2
AIR PURIFICATION MODE
Breath Well • Breath Safe
ND25.5 runs on high fan speed with millions of negative ions to purify the air and keep airborne allergens and germs at bay, protecting you and your loved ones to breathe well and breathe safe.


FEATURE HIGHLIGHT 3
LAUNDRY DRYING MODE
Fast • Effective • Effortless
ND25.5 also function as an effective laundry drying device. The moisture from the damp garment will be drawn into the unit and then condensed into water droplets. Simultaneously, the warm air is produced via the air outlet to further speed up the drying duration and keeping them fresh-smelling. Indoor laundry drying now made effortless with ND25.5!
Featuring the programmable timer function, at either ON or OFF Mode, ND25 can be programmed for an automatic shut off
or start up to customize to every individual needs.
Removes Excess Moisture & Keeps Humidity in Check

Removes Excess Moisture & Keeps Humidity in Check

Removes Excess Moisture & Keeps Humidity in Check

Removes Excess Moisture & Keeps Humidity in Check
Removes Excess Moisture & Keeps Humidity in Check

Removes Excess Moisture & Keeps Humidity in Check

Removes Excess Moisture & Keeps Humidity in Check

FEATURE HIGHLIGHT 4
SLEEP MODE
Quiet • Undisturbed Operation
Select sleep mode for quiet and undisturbed operation. 10 Seconds after activation, all light indicators auto turned off and runs on low fan speed with only 42 dB(A), as quiet as the sound of a light rainfall.
FEATURE HIGHLIGHT 5
AUTO HUMIDITY SENSOR
High Precision • Utmost Convenience
Set your preferred humidity setting within the range of 30% to 80% RH at an interval of 5% RH or Continuous Dehumidification Mode. The in-built hygrostat detects the humidity level of the surrounding, displays the real-time RH% reading and compares it to the humidity level set to auto start or stop the humidification function for energy conservation. 
FEATURE HIGHLIGHT 6 & 7
TIMER FUNCTION & AUTO SHUT OFF
WITH FULL TANK INDICATOR
Auto Shut Off • No Mess • No Overflow 
Set your desired timer duration from 01 to 24 hours for an automatic shutoff. Meanwhile, when the tank is full, ND25.5 cleverly prompts full tank indicator and unit auto shut off all thanks to the smart water float sensor. 
FEATURE HIGHLIGHT 8
CONTINUOUS
DRAINAGE OPTION
Save The Hassle Of Manually Emptying Water Tank
Besides manually emptying the water tank, you can also attach the 2 metres PE hose to the continuous drainage port to enable easy and effortless removal of the collected water, giving you greater ease and convenience!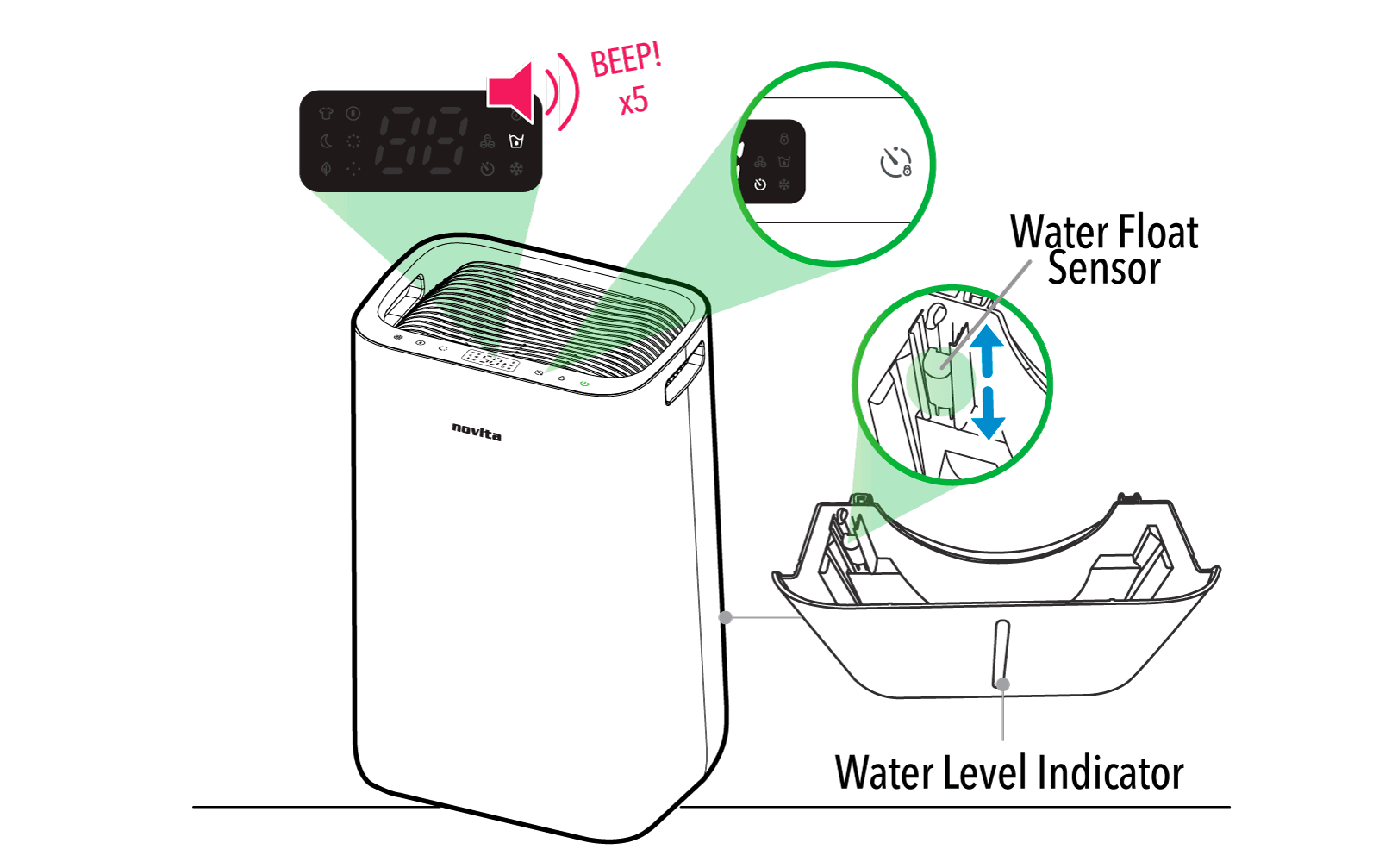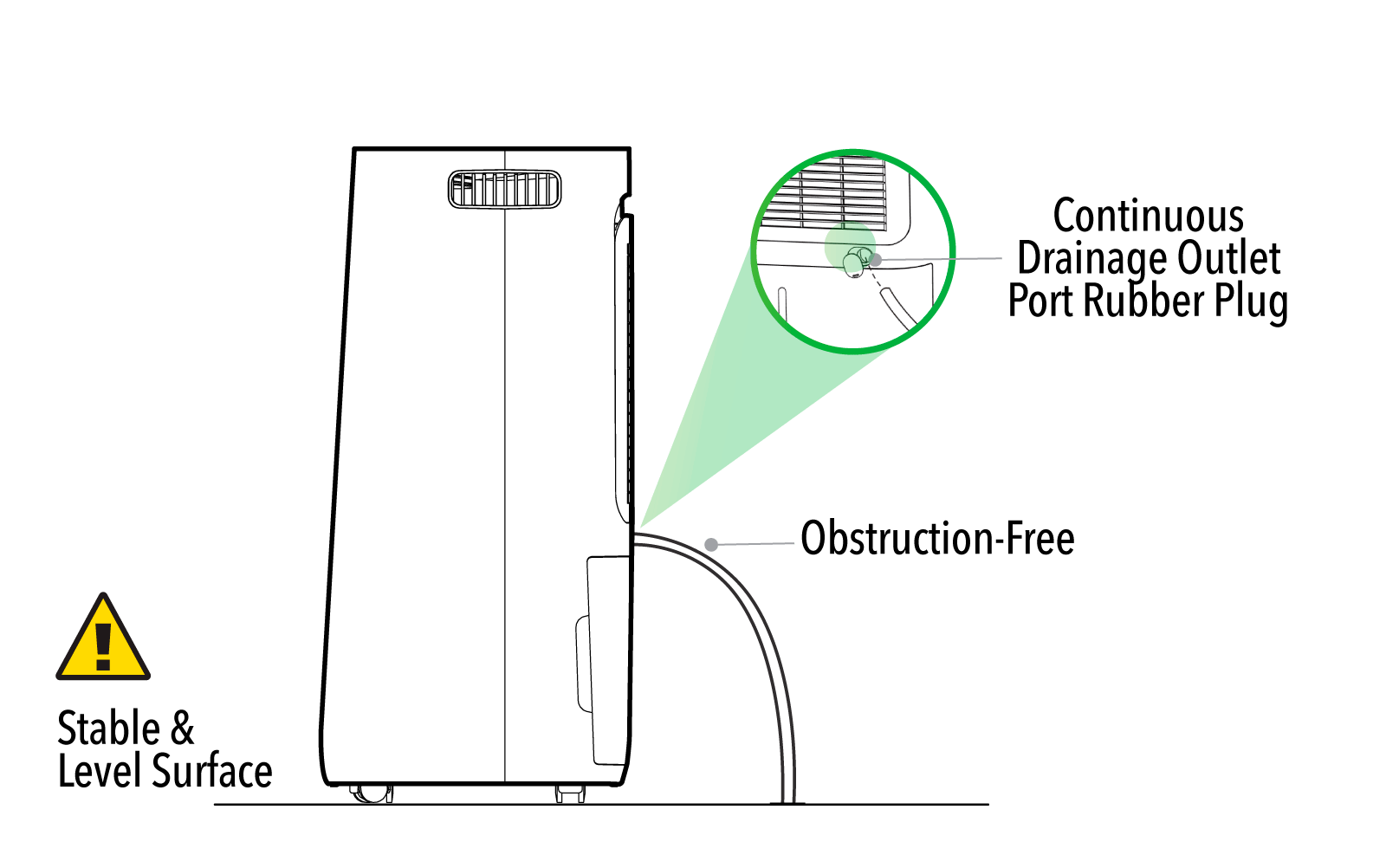 NAVIGATION IS A BREEZE
Designed with User-Friendly & Intuitive Interface