Description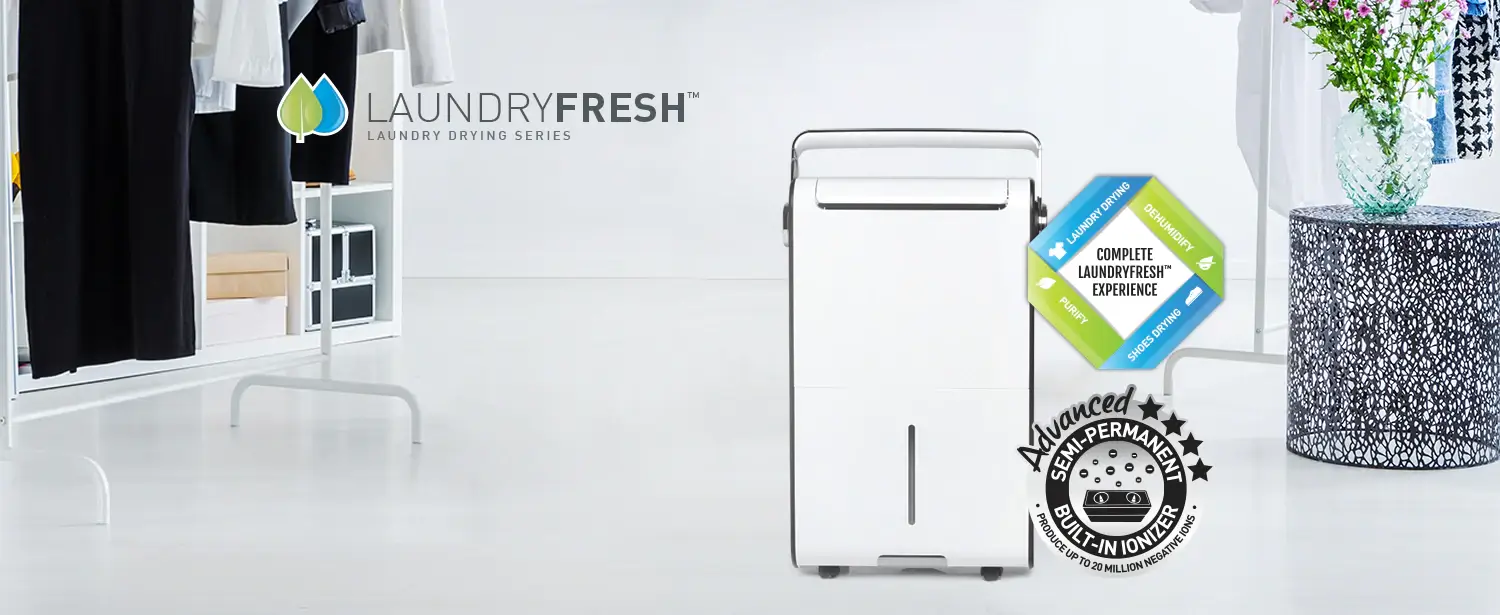 REVOLUTIONIZING INDOOR LAUNDRY DRYING TODAY
Combat unpredictable weather changes with novita LaundryFresh™ dehumidifiers. An effective and convenient laundry drying device, the dehumidifier absorbs moisture from your damp laundry while eliminating mildew smell and potential airborne germs. Complete the LaundryFresh™ experience by complementing your usage with an AirCare™ Air Sterilizer NAS300 that produces controlled ozone concentration levels to proactively sterilize and deodorize the surrounding air. Beat the uncomfortable and persistently humid conditions and leave it to the dehumidifier to do your everyday laundry drying for you!
HOW DO YOU NORMALLY DRY YOUR LAUNDRY?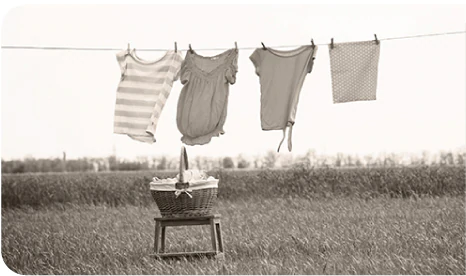 HANG DRY NATURALLY
Traditionally, people prefer leave their laundry to dry with natural sunlight and wind. With Singapore's unpredictable weather conditions, the drying duration can stretch to be much longer.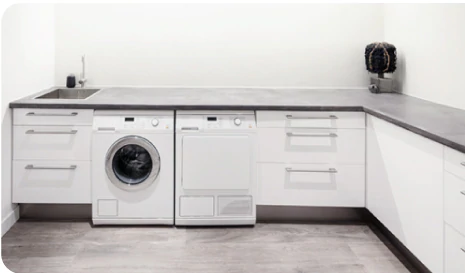 USE A LAUNDRY DRYER
Others may prefer laundry dryers that is also a quicker option. However, its high power consumption and big price tag that might deter some. The machine may also shrink the clothes and cause it to fray.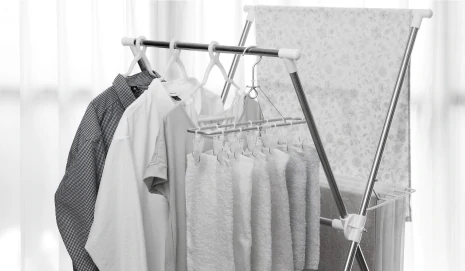 AIR DRY INDOORS
Leading a busy lifestyle, some may air dry their laundry indoors. Moisture from the damp garments increase the surrounding RH and create ideal breeding conditions for mould spores and dust mites.
POSSIBLE MOISTURE PROBLEMS FROM INDOOR LAUNDRY DRYING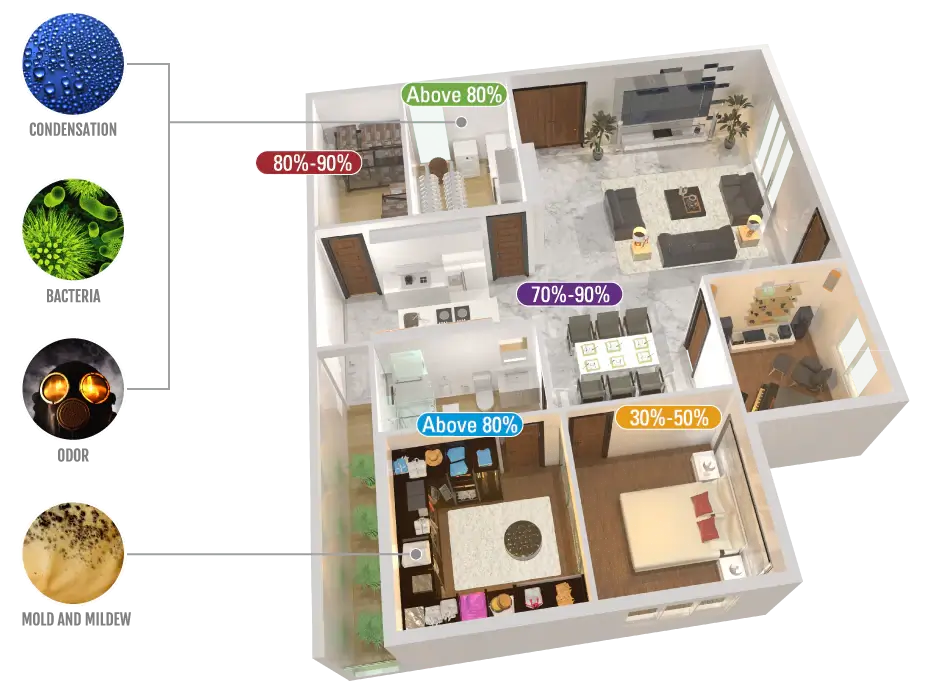 ESTIMATED HUMIDITY LEVELS AT DIFFERENT AREAS OF A HOUSE
Air-conditioned Bedroom
Living Room
Walk-in Wardrobe & Bathroom
Laundry Area
Basement/ Collectibles Storage Area
* Relative humidity is subjected to change based on Singapore weather conditions.
HOW DOES NOVITA LAUNDRYFRESH™
DEHUMIDIFIERS WORK?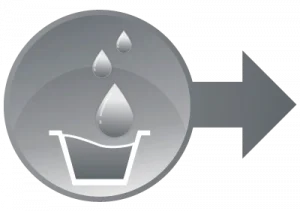 STEP 1
Draws in excess moisture from the air and garments. Warm air is concurrently produced from the air outlet to speed up the drying process.
STEP 2
The fitted enhanced dual mesh activated carbon filter effectively absorbs musty odour from damp garments or any lingering unpleasant odours.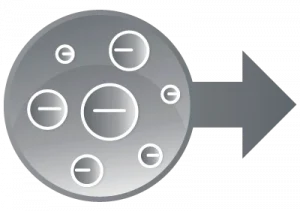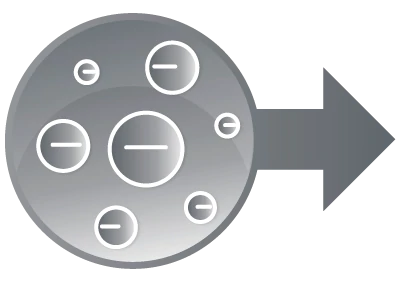 STEP 3
Producing millions of negative ions, the semi-permanent built-in ionizer eliminates airborne allergens and germs while also refreshing your indoor air.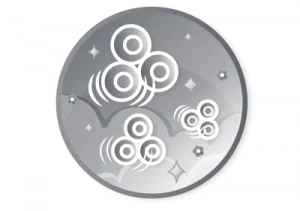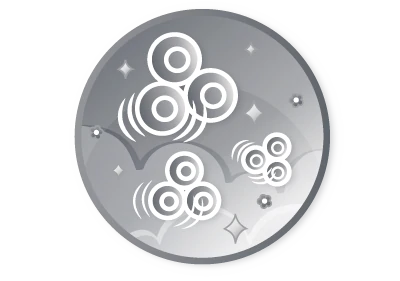 STEP 4
Pair the unit with novita AirCare™ Air Sterilizer NAS03 that produces controlled ozone concentration level to sterilize the air and eliminate airborne germs promptly!
Removing excess moisture in the air, the dehumidifier also eliminates musty smells lingering in the air and freshens the indoor air quality. Complete the LaundryFresh™ experience by complementing your usage with an Air Sterilizer NAS300 to sterilize the air thoroughly with controlled ozone concentration levels. Laundry drying can be a breeze even when there is little sunshine or even on cloudy days!
01
Remove excess moisture in the air and maintain ideal humidity conditions to prevent mold and mildew growth. Unit also doubles up for effective indoor laundry drying.
02
An effective odour control, the fitted Activated Carbon Charcoal Filter eliminates musty smells lingering in the air or from the damp garments.
03
The built-in semi-permanent ionizer produces millions of negative ions to eliminate airborne allergens and germs, cleaning and freshening your indoor air quality.
04
Complete the LaundryFresh™ experience by pairing the dehumidifier with an AirCare™ Air Sterilizer NAS03. Producing controlled ozone concentration, it sterilizes the air thoroughly by oxidizing airborne germs and unpleasant odours promptly.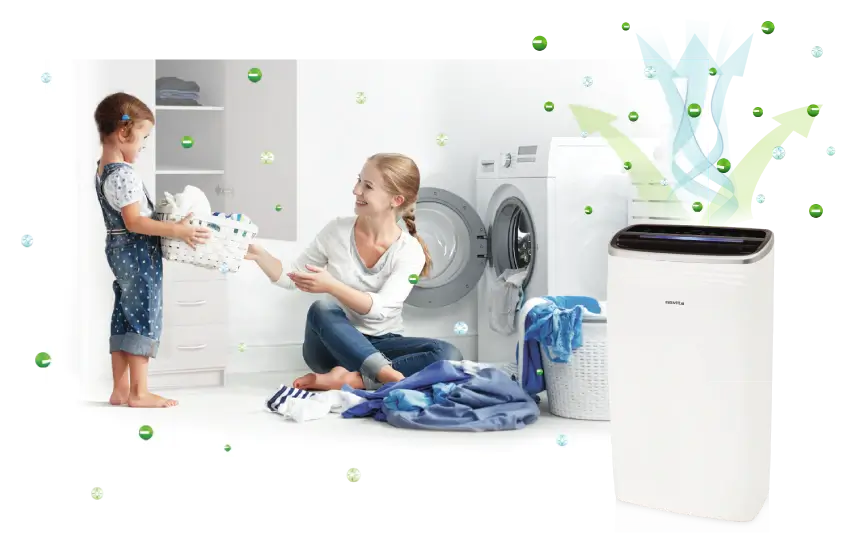 Clothes Will Not Become Rough or Stiffen

Removes Excess Moisture & Keeps Humidity in Check

Prevents Mould & Mildew Growth and Removes Unpleasant Odour
Speed Up Laundry Drying Duration
Clothes will not shrink or crease at the hem edges

Convenient and Easy to Use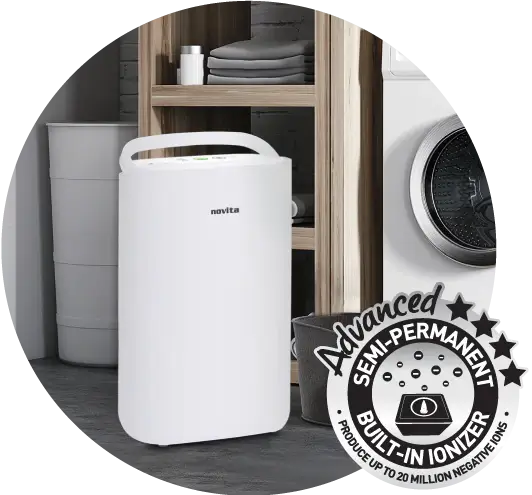 PETITE & HANDY
Dehumidifier ND315.5
SLEEK & HANDY
Dehumidifier ND328
THE MOST ECONOMICAL & SOLID PERFORMER
Dehumidifier ND25

HUMI
CONTROL

Extract excess moisture to safeguard your valuables from high humidity & protect them against mold, fungus and mildew.

LAUNDRY
FRESH
4 unique features to effectively dry laundry and also acts as a portable dehumidifier.

PREFERRED HUMIDITY SETTINGS
Use the turn-knob, soft-key or press buttons to set your dehumidifier to your ideal preferred RH.
AUTO HUMIDITY
SENSOR
Built-in hygrostat diagnoses the surrounding RH, and activates or deactivates the dehumidifier accordingly.

SHOES/FOCUS DRYING FUNCTION
User may direct the extension hose for shoes drying and also for focus drying in narrow or constricted areas, helping to keep humidity in check

AUTO STOP WITH FULL TANK INDICATOR
When the water tank is full, the dehumidifier will automatically stop with notification. Operation will resume after the tank is emptied.

ECONOMICAL STANDBY MODE
Automatically switch to standby mode when the RH is ideal, saving electricity costs.
PROGRAMMABLE
TIMER
Program a start or stop time for your dehumidifier ranging from 1-24 hours, according to your needs.

CHILDLOCK
FUNCTION
Enable this useful feature to prevent mishandling by young children who may unknowingly change the operating mode.
PRE-FILTER
SCREEN
Pre-filter screen sieves dust particles before dehumidification.

SEMI- PERMANENT BUILT-IN IONIZER
Producing up to 20 million negative ions/cm3, this helps keep airborne allergens and germs at bay, all while providing fresh indoor air quality.
SILENT
OPERATION
Well-paced fan allows for quiet operation, making it ideal for placement in the bedroom or office.

CONTINUOUS DRAINAGE OPTION
Connect a hose to allow water to flow out to a nearby drainage area to avoid the hassle of emptying the water tank.

CFC FREE
REFRIGERANT
Environmentally friendly CFC Free Refrigerants prevent further depletion of our fragile ozone layer.

ROTARY
COMPRESSOR
Your dehumidifier uses the rotary compressor to maintain high efficiency and smooth operation.

ENHANCED DUAL MESH ACTIVATED CARBON FILTER*
The activated carbon is fitted between two low resistance mesh layers. These layers help eliminate unpleasant odour and filter fine particles before the dehumidification process.
NAS03*
Produces controlled ozone concentration to eliminate airborne germs and unpleasant odour.
*The enhanced dual mesh activated carbon filter and ai sterilizer NAS03 are optional product accessories and can be purchased separately.
ACCESSORIES PACK
• 2 x Enhanced Dual Mesh Activated Carbon Filter
• 1 x Aircare™ Air Sterilizer NAS03 (Onyx Black)